The Handmaid's Tale 3, recensione di una serie tv strepitosa
The Handmaid's Tale 3 è arrivata con la potenza di un incendio che divampa: scrivo la recensione dei primi tre episodi della nuova stagione trasmessi su TimVision praticamente in contemporanea con gli Stati Uniti. Una serie tv strepitosa, unica, suggestiva, capace di afferrarti e non lasciarti andare più anche grazie alla magnifica interpretazione di Elisabeth Moss che ho già amato nell'altra serie cult Mad Men. Eviterò spoiler il più possibile ma è chiaro che qualcosa della trama degli episodi dovrò pur dire. The Handmaid's Tale, ideata da Bruce Miller è tratta dal romanzo distopico Il racconto dell'ancella di Margaret Atwood, del 1985. La serie è pluripremiata tra Emmy e Golden Globe. Siamo a Gilead, in un futuro non troppo lontano, così si chiamano adesso gli Stati Uniti dopo che un colpo di Stato ha soppiantato la democrazia e l'organizzazione della società. Inquinamento e malattie stavano annientando il tasso di natalità, le donne sono in gran parte afflitte da infertilità. A Gilead dove la religione si fa Stato nel modo più ortodosso possibile almeno per chi lo ha creato, il nucleo fondante della società sono le famiglie guidate da un comandante, una moglie che non può dargli figli, e a loro viene assegnata appunto un'ancella.
Esistono due tipi di libertà: la libertà di e la libertà da. Nei tempi dell'anarchia c'era la libertà di. Oggi c'è la libertà da.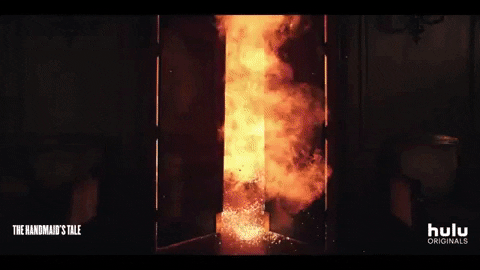 Vestite con la tunica rossa diventata simbolo di questa serie tv, le ancelle vengono addestrate dalle "zie" a svolgere al meglio il loro compito, che è quello di dare alla luce un bambino. Come? In un rituale atroce mostrato nella pirma serie in tutta la sua scioccante violenza. Le ancelle vengono stuprate dal capofamiglia sul letto matrimoniale con la moglie che tiene l'ancella tra le sue gambe come una prosecuzione del proprio corpo. Abbiamo imparato dalla prima stagione a odiare e inorridire per quella società dove le donne non possono più leggere, scrivere, svolgere alcuna professione.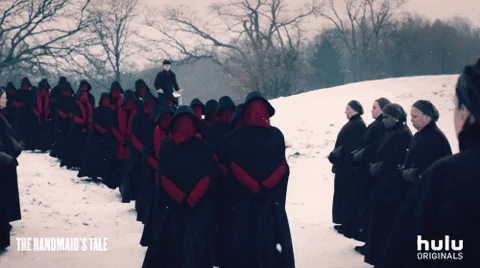 Con gli occhi di June, chiamata poi Difred (e ora Dijoseph) in base all'uomo a cui viene assegnata, nelle prime due stagioni attraverso i flashback conosciamo la storia di queste donne che nell'arco di poco tempo devono adattarsi a rinunciare alla propria identità, spesso ai propri mariti e ai figli. Alla libertà. E' accaduto di tutto nelle prime due stagioni, abbiamo penato, trattenuto il respiro, serbato rancore dietro il copricapo bianco a vela che ci nasconde. "C'era un tempo in cui le donne potevano scegliere", è la voce di June a dirlo in questi primi episodi della nuova stagione, in cui finalmente vediamo scintille di ribellione mentre personaggi, come quello di Serena, la moglie del primo comandante di June, vive un passaggio cruciale della propria personalità. Certezze che crollano, vite che reclamano dignità e voce e potere per decidere di se stesse. The Handmaid's Tail è una serie da vedere, rivedere, ascoltare. Con quegli occhi magnetici della Moss che ci trafiggono fino a darci speranza.